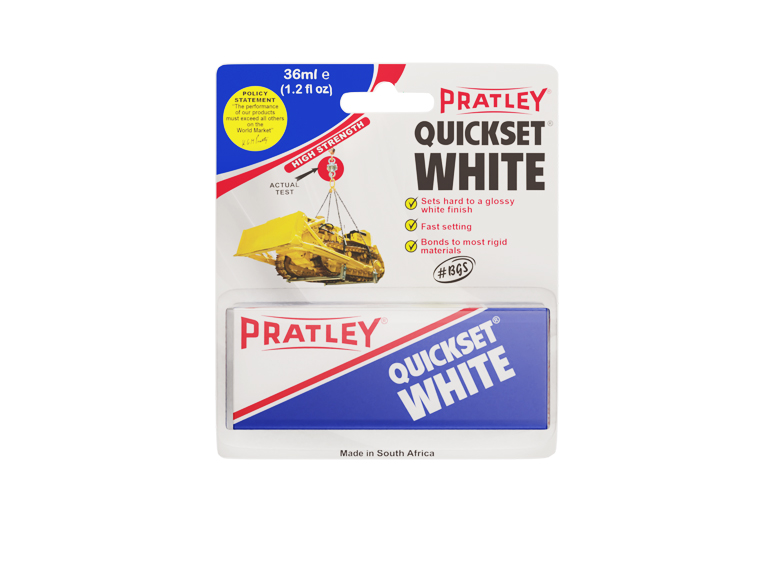 Quickset white® 36ml (PRA85139)
Best suited for heavy duty applications where surfaces are somewhat rough
After mixing, it is thixotropic (liquid) and has the consistency of soft butter
Can be used to fill large gaps where repair requires both adhesive strength and filler Can be filed, sawn, machined or sanded.
Metals, woods, ceramics, stone, concrete, glass, fibreglass and most rigid materials.
Repair ceramic chipped basin or toilet
Fix ceramic tiles or ornaments to walls
Stick masonry work together
Repair electrical insulators
Quickset Clear® 36ml (PRA86143)
Very versatile adhesive which every family will find useful in the home
Can be used in applications where the adhesive should not be visible e.g. on glass
Different from White Glue and is not thixotropic
Ceramics, stone, concrete, glass, fibreglass and most rigid materials.
Repair broken ornaments
Construct model aircraft
Fix jewellery
Fix metal badge to car body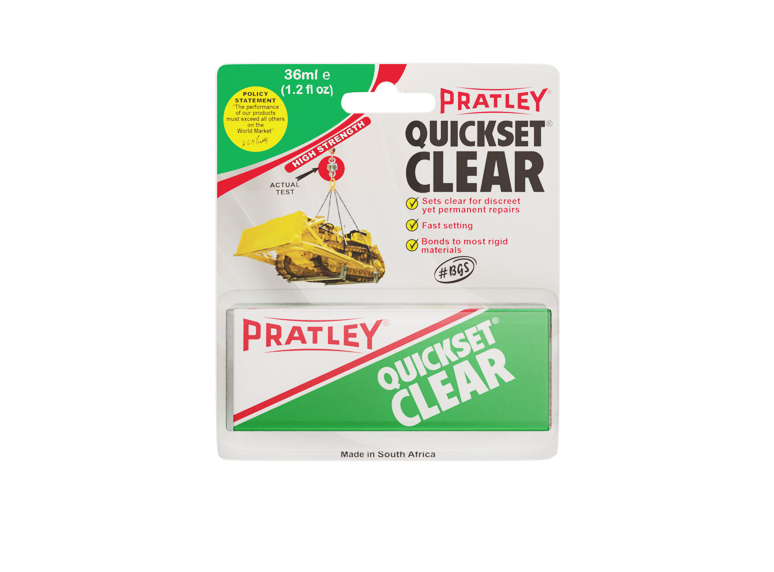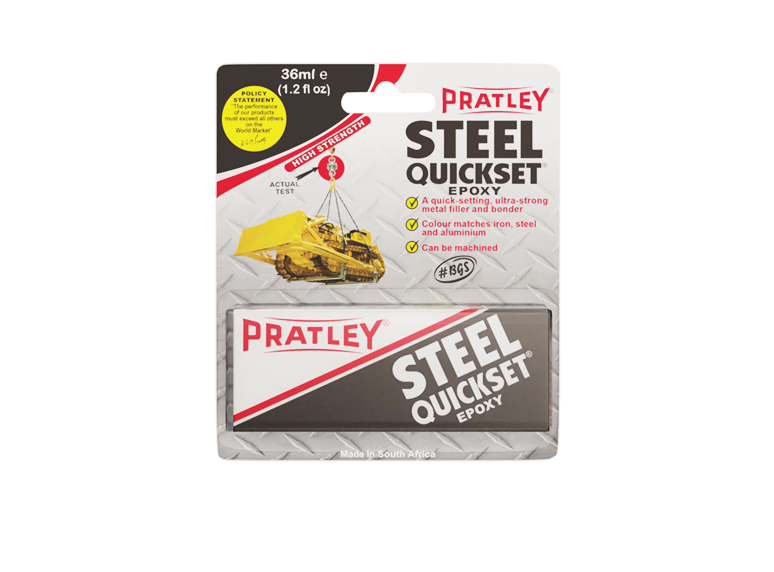 Quickset Steel ® 36ml (PRA87005)
Quick setting adhesive metal filler and mender
Sets very hard and matches the colour of most ferrous metals
Sets rigidly and can facilitate filing, sawing, machining and sanding within 2 hours
Metals, cement, concrete, china, stoneware, glass, slate, tiles, ceramics, woods and most rigid materials.
Filling blow-holes in metal castings
Repairing cracked castings
Making fillets or filling seams in metal parts
Bonding ceramics, slate and tiles
Bonding metal parts
Repairing silver ornaments
Repairing engine sumps
SP001® 500ml kit (PRA83230)
Medium curing, general purpose grade adhesive with special performance properties
Exceptional resistance to diesel, oil and water
Good resistance to chemicals and acids
High strength
Adheres well to most surfaces
Plumbing fittings
Repair of chemical plant components
Repair of marine equipment
Repair of mining equipment
Repair of lead acid battery casings
Repairs to fibreglass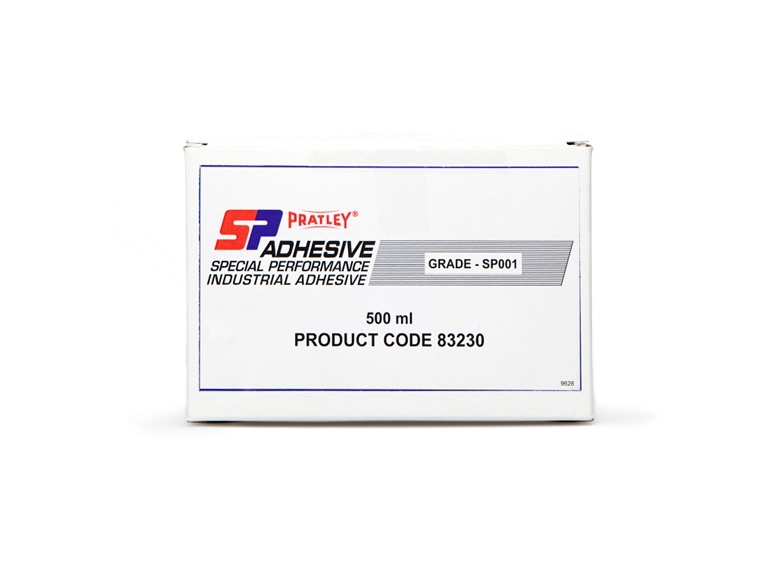 Pratleymix® 500ml (PRA89247)
High quality epoxy based industrial adhesive and repair medium
Sets hard, yet tough enough to take impact loads
A standard slow setting product with wide industrial applications
Metal, concrete, cement and most rigid materials.
Mix with sand and use to patch chipped concrete stairs or corners
Soak into cloth and wrap around broken joints
Patch boat hulls
Cover chipped or worn floors
Cover metal to protect against corrosion
Use as abrasion resistant lining